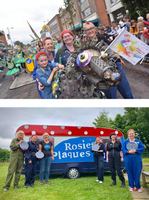 WE MAKE ALTERNATIVE BLUE PLAQUES FOR WOMEN! 
Rosie's Plaques is a guerrilla art project staged by women of The Common Lot. There are more than 4500 heritage plaques in the UK. Less than 12% of them celebrate the lives, achievements and spaces of non-mythical women. It's a bloody outrage!
The project began in Norwich in May 2019 with eight plaques and has since become a national movement.
You can find out more about our story here.
Visit our Plaque Map where you will be able to see all the Rosie's Plaques.
@museumofnorwich
The @rosiesplaques crew have been at it again. We are totally behind you sisters! Such an important message & cause, promoted by a magnificent band of women. 
@ColinHynson
@rosiesplaques These are bloody fantastic. I've been posting the pics all over Norwich history groups on Facebook and people love them!
@RootsNew
Brilliant live - and emerging - art installation in #Norwich celebrating the forgotten radical women of Norfolk. Not so silent, invisible or marginalised now... @rosiesplaques

@CathHubbuck
@rosiesplaques are one of my favourite things about Norwich...